The Weekly Rewind is my version of The Sunday Post hosted by Kimba at Caffeinated Book Reviewer.
I'm participating in Project 365, an ongoing feature where you take (at least) one photo a day every day and post it. I have a separate blog for that but I'm reposting thumbnails in the Weekly Rewind each week. If you're really interested in my photos, head on over to Jenna's 2014 Project 365 and follow me there. I usually do a little writeup giving some more details about the photo I've taken.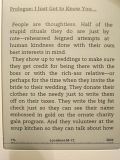 Reviews: Kellie's Diary #1 by Thomas Jenner & Angeline Perkins, Better Off Friends by Elizabeth Eulberg (4 1/2 stars)
Other Posts: The Walking Dead podcasts, Throwback Thursday: Retro Reads – The Girls of Canby Hall #3 – You're No Friend of Mine
Books I Acquired:
For Review:

Blindness
by Ginger Scott,
Hexed
by Michelle Krys,
An Unstill Life
by Kate Larkindale
Purchased:

Mistwalker
by Saundra Mitchell (because of
Anya's review
),
Partials
(audiobook)
I DNF'd Partials last year, but I wanted to give it another chance so I'm trying the audiobook. I've had pretty good luck when I switch formats on a book I'm struggling with, so I hope this follows the pattern.
Free on Amazon:

Twin Souls
by K.A. Poe,
The Ghost Files Volume 2
by Apryl Baker
Currently Reading: Blindness by Ginger Scott, Pretenders by Lisi Harrison